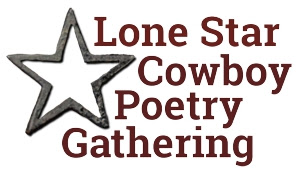 Hello friends,
Excitement is building in West Texas and across the country as word gets out about the plans in Alpine for February. Have you heard about what's coming? And did you know you can get your tickets now? (If you already have your tickets, great! We can't wait to see you. Thanks for the early support.)
Here are some highlights:
1) "Charlie Goodnight: His Life in Poetry and Song"
A true western opera comprised of 15 poems and 14 songs written and composed by Andy Wilkinson, the show will be performed as the Saturday Night Show on Feb. 18 at 7:30 PM. This production will feature many singers, reciters, and musicians who have performed the work before: Barry Corbin, Alissa Hedges, Andy Hedges, Donnie Maines, Lloyd Maines, Chuck Milner, Waddie Mitchell, B. Byron Price, Rod Taylor, Emily Wilkinson, and Andy Wilkinson. They will be joined by others from the Gathering: Jim Bradley, Pipp Gillette, Maggie Rose Hedges, Joel Nelson, Don Richmond, Larry Scott, Dave Stamey, Ian Wilkinson, Pixel Wilkinson, and Sterling Wilkinson.
2) Five other shows and 35 free sessions
More than 30 acclaimed performers will speak, play, and sing. We'll list them in alphabetical order, because they're all pretty great: Dale Burson, Craig Carter, Juni Fisher, Jack George, Pipp Gillette, Jeff Gore, Amy Hale, Kristyn Harris, Andy Hedges, Yvonne Hollenbeck, Carson Houser, Ross Knox, Chuck Milner, Waddie Mitchell, John Moore, Joel Nelson, Jean & Gary Prescott, B. Byron Price, Vess Quinlan, Brigid & Johnny Reedy, Randy Rieman, The Rifters, Jake Riley, Chris Ryden, Sean Sexton, R.P. Smith, Dave Stamey, Gail Steiger, Andy Wilkinson, and Jim Wilson.
3) Show Rodeo (new event this year)
The Sul Ross State University Rodeo Team has an illustrious history, and is now led by nationally-recognized coach C.J. Aragon. On Wednesday, Feb. 15, members of the SRSU Rodeo Team will "show their stuff" for us in a non-competitive display in the lighted and covered S.A.L.E. Arena just outside Alpine. Lone Star Cowboy Poetry Gathering is sponsoring the event and proceeds benefit the SRSU rodeo program. $10 for adults; $5 for youth 12-17; free for children 11 and under.
4) Chuckwagon Breakfasts and Cowboy Suppers
Breakfasts: Biscuits, sausage gravy, scrambled eggs, and coffee cooked and eaten outdoors in the cool morning air of Poet's Grove in Kokernot Park for only $5 per morning. Suppers: Catered by local favorite Roux Alpine and served at the Alpine Civic Center for $25 per plate, tax and tip included (advance).
As always, if you are a member or sponsor, thank you! We greatly appreciate that extra support. If that's not feasible for you right now, we understand.
We hope to see you in February under the beautiful skies of the Big Bend! Watch for more emails highlighting individual performers and events.
Lone Star Cowboy Poetry Gathering
Board of Directors
November 2022
Elizabeth Baize, Fort Davis
Robbie Burns, Alpine
Ben English, Alpine
Jim Goodnight, Dallas
Karen Lloyd, Alexandria, VA< br /> Karen McGuire, Alpine
Kay Nowell, Alpine
Gene Nowell, Alpine
Vess Quinlan, Alamosa, CO
David Richmond, Lindrith, NM
Jim Street, Alpine
Patrick Sullivan, Fairfax Station, VA
Gilbert Valenzuela, Alpine
Event Producer
Bob Saul, Fort Worth
Film Production and Advisors to the Board
John and Erika Moore, Durango, CO
Advisors to the Board
Rachel Barrett, Alpine
Andy Hedges, Lubbock
Mailing address:
Lone Star Cowboy Poetry Gathering
P.O. Box 1076
Alpine, TX 79831
Website:
https://lonestarcowboypoetry.com