Member Benefits
Bronze Member - $5 per month or $50 annually
Early access to online ticket sales
Free annual dated event badge
Free event program
Name listed in event program (can request non-listing)
Lapel tag displaying Bronze member level
Silver Member - $10 per month or $100 annually
Early access to online ticket sales
Free annual dated event badge
Free event program
Name listed in event program (can request non-listing)
Lapel tag displaying Silver member level
Gold Member - $25 per month or $250 annually
Early access to online ticket sales
Free annual dated event badge
Free event program
Name listed in event program (can request non-listing)
Lapel tag displaying Gold member level
Supporting Member - $50 per month or $500 annually
Early access to online ticket sales
Free annual dated event badge
Free event program
Name listed in event program (can request non-listing)
Lapel tag displaying Supporting Member level
Founding Member - $100 per month or $1000 annually
Early access to online ticket sales
Free annual dated event badge
Free event program
Name listed in event program (can request non-listing)
Lapel tag displaying Founding Member level
Custom "Lone Star Cowboy Poetry Gathering Founding Member 2020" belt buckle, crafted with pride by Gist Silversmiths in the USA.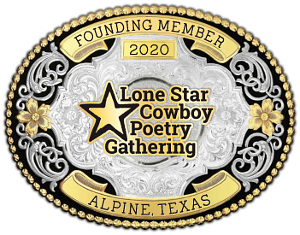 Buckles are minted through a superior technology and hand finished. For 50 years, Gist Silversmiths has set the standard for silver buckle design and craftsmanship. $275 value.