Roll On, Cowboys at the Lone Star Cowboy Poetry Gathering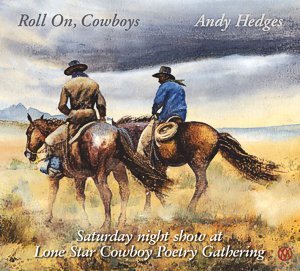 Cowboy songster Andy Hedges will host a legendary group of guests in the Saturday night show of the 2024 Lone Star Cowboy Poetry Gathering to perform songs from Roll On, Cowboys, his recent album of duets. Ramblin' Jack Elliott, Dom Flemons, Pipp Gillette, Brenn Hill, Corb Lund, Waddie Mitchell, Brigid Reedy, Randy Rieman, Rod Taylor, and Andy Wilkinson will all be joining Andy onstage to bring the double album to life. This will be a historic evening in Alpine, Texas, with an iconic lineup of folk legends, Grammy winners, cowboy poets, singer/songwriters, and old-time cowboy musicians sharing a single stage.
Andy described the album process to Western Horseman: "I traveled around the country for over a year sort of collecting people that were interested and then deciding on songs we would do — stopping at times to record some in Lubbock as I caught someone passing through on tour. It was a pretty low-tech approach, frankly, but I was fortunate to get some really wonderful folks to participate . . . Each of the songs we chose had a very specific story behind it, so it was very important to match the right duet partner with each song."
"Little Joe the Wrangler" was included on the album after Andy and Canadian singer/songwriter Cord Lund had discussed it at various gatherings. "Corb had told me he had learned many traditional tunes from his grandfather in Alberta, and that he was surprised when he heard people like Don Edwards or Marty Robbins perform them and the lyrics were different — that the regional Alberta references that his grandfather had in those songs were changed — maybe for different audiences. So, when Corb and I decided to record 'Little Joe the Wrangler' together, he included those original Alberta references of his grandfather's in the song, and we were both happy how it turned out."
As Andy told Texas Highways in a recent interview, "'The term "cowboy songster" communicates the idea that I am someone who is not a songwriter but an interpreter of songs from a variety of styles within the cowboy tradition,' he explained, adding that this applies to his heroes: Don Edwards, Ramblin' Jack Elliott, Buck Ramsey, and Glenn Ohrlin. 'A songster is known for their repertoire and their own unique versions of songs. I think it also communicates the breadth of the material in the cowboy tradition. Old ballads, Tin Pan Alley songs, gospel songs, songs from the English, Scottish, and Irish traditions, novelty songs, cowboy poetry, fiddle tunes, and modern-day songs."' Andy's previous album, Shadow of a Cowboy, won the coveted Western Heritage Award in 2020 from the National Cowboy and Western Heritage Museum for Outstanding Traditional Western Album.
Along with being a genuinely nice guy, proud husband and dad, and popular performer, Hedges is also known for his respected podcast, Cowboy Crossroads, which features in-depth interviews with a wide variety of Western standouts. Another highlight of the Feb. 2024 Gathering will be the Friday late afternoon ticketed show, "Cowboy Crossroads: Celebrating 100 Episodes," during which Andy will interview Waddie Mitchell for the podcast. Andy made his Grand Ole' Opry debut, along with Dom Flemons and Brigid Reedy, on August 10, 2023.