Thinking about becoming a member? Silver Members and above get a complimentary ticket. Bronze Members save $15 on their ticket. Please join first, then use the promo code in your membership receipt to get your ticket.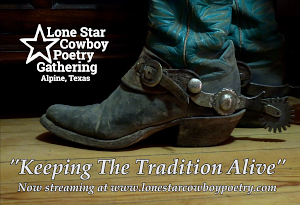 Keeping The Tradition Alive (film; 81 min running time)
Includes poetry and musical performances and interviews with poet Joel Nelson and musicians Dale Burson, R.W. Hampton, Randy Huston, and Rod Taylor. Produced by John and Erika Moore. Filmed on location in 2020 in Alpine, Texas, and at ranches in Texas and New Mexico. A thoughtful, informed, and humorous introduction to Alpine, the Gathering, and the poetry and music created by working cattlemen and women.
Screen tickets provide access for any number of viewers on one screen. Stream it on a smartphone, a tablet, a laptop, or a big-screen TV. Watch as many times as you like through February 2022.
2021 showing: April 15, 2021 to Feb. 28, 2022
Buy More, Save a Bundle: Treat your friends, family, or co-workers to a taste of the Gathering. The first ticket on your order is $20. Additional tickets are only $5 each. Place your order all at once to give gifts. Your receipt will explain how to enter email addresses for your gift recipients.