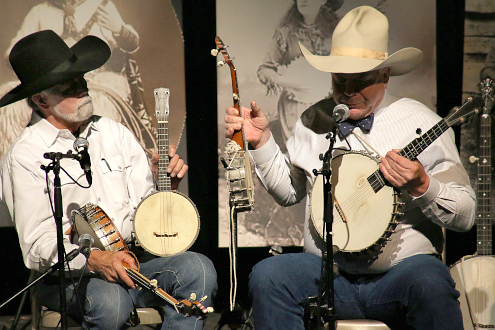 In-Person Gathering in Alpine: Feb. 18-19, 2022
Plan to polish your boots and brush off your best hat! We are excited to announce that we will be gathering in Alpine in February, with more than forty scheduled performers who know cowboy life from the inside.
Tickets are now on sale to the general public, after our member and sponsor early access period. Buy tickets now.
Don't miss the "Taste of the Gathering" session on Friday morning, with Jack George, Rod Taylor, Mary Abbott, Brenn Hill, Andy Hedges, Ross Knox, Daron Little, Andy Nelson, Brigid and Johnny Reedy, Randy Rieman, Kristyn Harris, and Dave Stamey all on the bill. See the full list of performers.
The ticketed shows, free sessions, chuckwagon breakfasts, keynote address, open mic sessions, Youth Poetry Contest, and Saturday night dance promise to be better than ever, and the high desert air and mountain views of Alpine can't be beat. New this year are a catered supper each night at the Alpine Civic Center, a mandolin workshop, and a guitar workshop. Come enjoy it all!