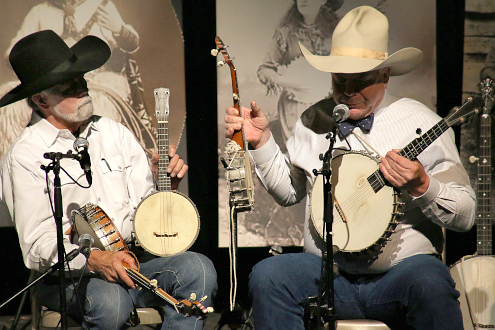 Music, Poetry, and Smiling Faces
The classrooms, hallways, and auditorium of Sul Ross State University were alive with cowboy hats, guitars, banjos, chords, and rhymes Feb. 18-19, as the Gathering convened on campus. Participants reveled in the beautiful, crisp weather and gorgeous West Texas skies; the obvious pleasure performers and audience took in being together again; and the warm hospitality extended by Alpine and the SRSU community.
More than 1,500 individuals were present for the Gathering, including paid ticketholders, free session attendees, performers, volunteers, and staff, with as many as 20 percent of them first-time attendees. They came from 30 states as well as Israel and Germany.
Performer Brenn Hill said, "Thank you Lone Star Gathering for your efforts and hospitality. One of the favorite events of my lifetime. Here's to many, many more." His colleague Daron Little said, "What a great gathering." Attendee Barbara Denny George echoed the sentiments of many, saying on Facebook, "What a great day! New faces and old faces! Great entertainment!"