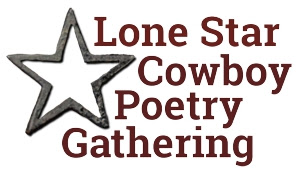 Howdy, everyone!
Let's talk a little about membership in the Lone Star Cowboy Poetry Gathering. And you can see our new membership cards!
Why do we have members?
We have members to broaden our base of support and give us a strong foundation. We want to create a Gathering that can continue year after year, without being beholden to a particular large benefactor or grantmaker. Members support the Gathering all year round, which enables the board of directors to make the details happen all year: commit to a fair payment to our performers, pay our sound techs, arrange a caterer for suppers, and more. Plus, your support demonstrates that we are a publicly-supported organization worthy of our 501(c)(3) tax-exempt status. That helps all of us.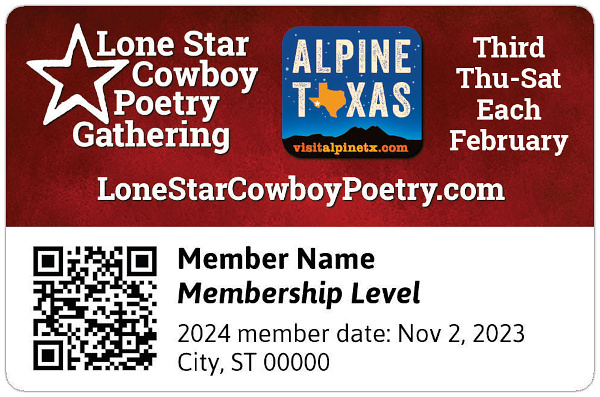 What are the benefits of membership?
Access to early sale of tickets.
Name listed in event program as a member.
Member level name badge (pick-up at event only).
Printed membership card, to be mailed in January to all members who will be current at the 2024 Gathering. See photos in this email for the design.
10% discount on merchandise purchased in Mercantile at Gathering.
Credit toward tickets, films, and Gathering merchandise. Amount varies by membership level, starting at $10 for Bronze Members and going up to $100 for Partner Members.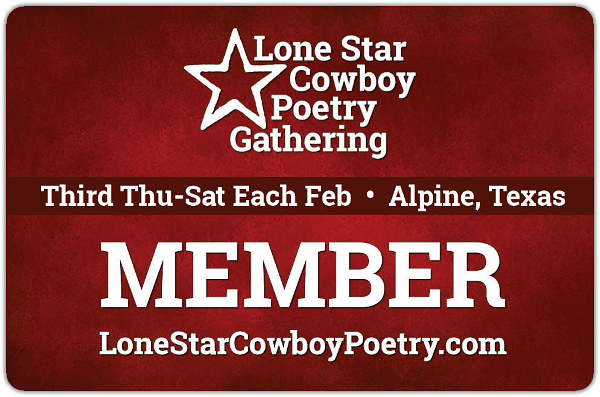 What does membership cost?
Bronze Membership: $6 per month or $60 annually
Silver Membership: $12 per month or $120 annually
Gold Membership: $24 per month or $240 annually
Supporting Membership: $50 per month or $500 annually
Partner Membership: $100 per month or $1000 annually
We are grateful for members at any level. It takes a lot of support to create a Gathering, and having a strong foundation of members is key.
When do ticket sales begin?
Ticket sales begin on October 1 for members, and on November 1 for the general public.
Our nights are under 70 degrees now in Alpine, and the Museum of the Big Bend just opened an $11 million addition that doubled its size. Come visit!
Remember to make your lodging reservations now for February 15-17, 2024. More news soon!
All the best,
Kay and Gene Nowell
Co-Chairs
Lone Star Cowboy Poetry Gathering
P.S. In case you missed the lineup of the Branding Crew for the 2024 Lone Star Cowboy Poetry Gathering in the last newsletter, here are the performers who are coming: Mary Abbott, Jerry Brooks, Dale Burson, Bob Campbell, Hal Cannon, Craig Carter (with Zack Casey), Doris Daley, Ramblin' Jack Elliott, Juni Fisher, Dom Flemons, Pipp Gillette (with Lloyd Wright), Amy Hale, Kristyn Harris, Andy Hedges, Brenn Hill, Randy Huston, Jill Jones and the Jingle Bobs (Bob Goldstein and Zeke Severson), Ross Knox, Daron Little, Corb Lund, Deanna McCall, Kaden Miner, Waddie Mitchell, John Moore, Andy Nelson, Joel Nelson, Vess Quinlan, Brigid and Johnny Reedy, Randy Rieman, Chris Ryden, Tom Sharpe, Jay Snider, Gail Steiger, Rod Taylor, Andy Wilkinson (with Emily Wilkinson), and Cora Rose Wood. It's going to be a doozy!
Lone Star Cowboy Poetry Gathering
August 2023
Board of Directors
Elizabeth Baize, Fort Davis
Robbie Burns, Alpine
Marian Freeland, Alpine
Bill Jones, New Tazewell, TN
Karen Lloyd, Alexandria, VA
Karen McGuire, Alpine
Kay Nowell, Alpine
Gene Nowell, Alpine
Vess Quinlan, Alamosa, CO
David Richmond, Lindrith, NM
Chris Ryden, Midland, TX
Jim Street, Alpine
Patrick Sullivan, Fairfax Station, VA
Event Producer
Bob Saul, Fort Worth
Film Production and Advisors to the Board
John and Erika Moore, Durango, CO
Advisors to the Board
Rachel Barrett, Alpine
Jim Goodnight, Dallas
Andy Hedges, Lubbock
Mailing address:
Lone Star Cowboy Poetry Gathering
P.O. Box 1076
Alpine, TX 79831
Website:
https://lonestarcowboypoetry.com