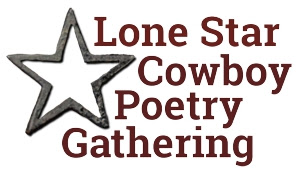 Howdy, everyone!
We are pleased to announce the Branding Crew for the 2024 Lone Star Cowboy Poetry Gathering, scheduled for February 15-17, 2024: Mary Abbott, Jerry Brooks, Dale Burson, Bob Campbell, Hal Cannon, Craig Carter (with Zack Casey), Doris Daley, Ramblin' Jack Elliott, Juni Fisher, Dom Flemons, Pipp Gillette (with Lloyd Wright), Amy Hale, Kristyn Harris, Andy Hedges, Brenn Hill, Randy Huston, Jill Jones and the Jingle Bobs (Bob Goldstein and Zeke Severson), Ross Knox, Daron Little, Corb Lund, Deanna McCall, Kaden Miner, Waddie Mitchell, John Moore, Andy Nelson, Joel Nelson, Vess Quinlan, Brigid and Johnny Reedy, Randy Rieman, Chris Ryden, Tom Sharpe, Jay Snider, Gail Steiger, Rod Taylor, Andy Wilkinson (with Emily Wilkinson), and Cora Rose Wood. You may notice two Canadians in that group, Doris Daley and Corb Lund; some new names; and lots of favorites. With a lineup like that, this is sure to be a Gathering to remember.
As we told you last month, the Show Rodeo in support of the Sul Ross Rodeo Team will be back for 2024 the day before the Gathering, so put that on your calendar for Valentine's Day, and take a friend or sweetheart to the rodeo. The Mercantile opens on Thursday, February 15 at noon, and
the new Thursday night ticketed show will be that evening. Then we'll have the keynote and Taste of the Gathering Friday morning, and the great free sessions and ticketed shows we all love.
While you're marking your calendar:
Member ticket sales for 2024 begin on October 1, and ticket sales for the general public begin on November 1. Our Saturday night show sold out Marshall Auditorium last year, so your member advance ticket purchase perk may become important this year. Membership starts at $6 per month or $60 per year, and helps the Gathering survive and thrive. Learn more here.
Saturday Night Show: Roll On, Cowboys
And on the topic of ticketed shows, here's the news that's lighting up Facebook and Instagram.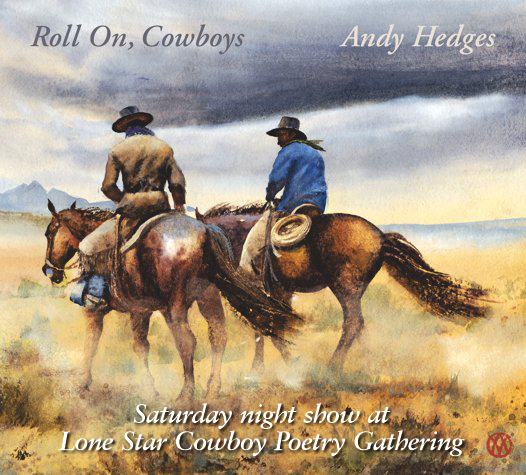 Cowboy songster Andy Hedges will host a legendary group of guests in the Saturday night show of the 2024 Lone Star Cowboy Poetry Gathering to perform songs from Roll On, Cowboys, his recent album of duets. Ramblin' Jack Elliott, Dom Flemons, Pipp Gillette, Brenn Hill, Corb Lund, Waddie Mitchell, Brigid Reedy, Randy Rieman, Rod Taylor, and Andy Wilkinson will all be joining Andy onstage to bring the double album to life. This will be a historic evening in Alpine!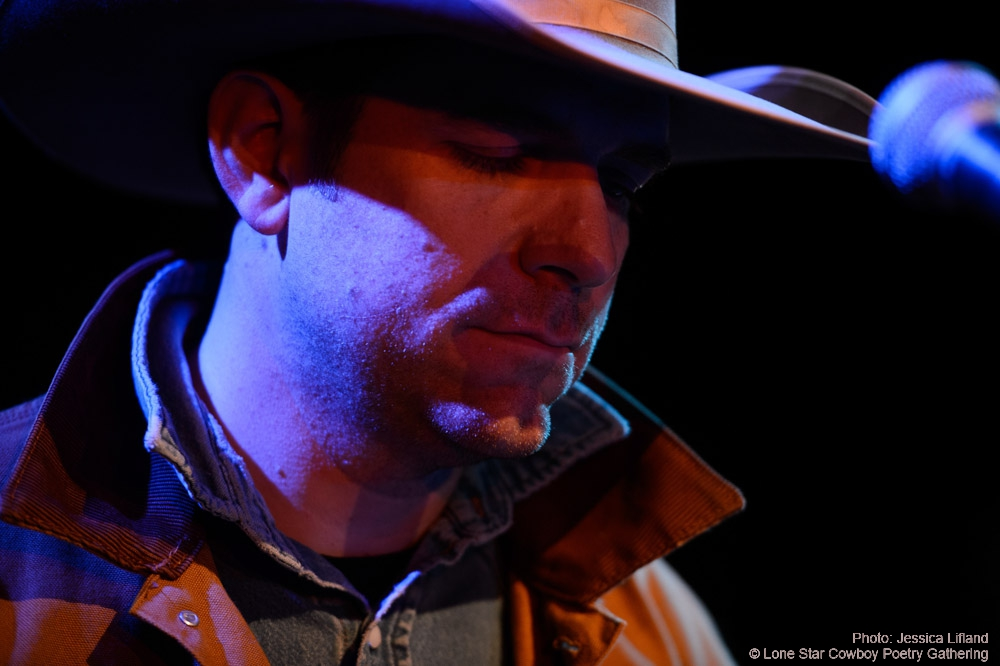 Andy described the album process to Western Horseman: "I traveled around the country for over a year sort of collecting people that were interested and then deciding on songs we would do — stopping at times to record some in Lubbock as I caught someone passing through on tour. It was a pretty low-tech approach, frankly, but I was fortunate to get some really wonderful folks to participate . . . Each of the songs we chose had a very specific story behind it, so it was very important to match the right duet partner with each song."
"Little Joe the Wrangler" was included on the album after Andy and Canadian singer/songwriter Cord Lund had discussed it at various gatherings. "Corb had told me he had learned many traditional tunes from his grandfather in Alberta, and that he was surprised when he heard people like Don Edwards or Marty Robbins perform them and the lyrics were different — that the regional Alberta references that his grandfather had in those songs were changed — maybe for different audiences. So, when Corb and I decided to record 'Little Joe the Wrangler' together, he included those original Alberta references of his grandfather's in the song, and we were both happy how it turned out."
As Andy told Texas Highways in a recent interview, "'The term "cowboy songster" communicates the idea that I am someone who is not a songwriter but an interpreter of songs from a variety of styles within the cowboy tradition,' he explained, adding that this applies to his heroes: Don Edwards, Ramblin' Jack Elliott, Buck Ramsey, and Glenn Ohrlin. 'A songster is known for their repertoire and their own unique versions of songs. I think it also communicates the breadth of the material in the cowboy tradition. Old ballads, Tin Pan Alley songs, gospel songs, songs from the English, Scottish, and Irish traditions, novelty songs, cowboy poetry, fiddle tunes, and modern-day songs."' Andy's previous album, Shadow of a Cowboy, won the coveted Western Heritage Award in 2020 from the National Cowboy and Western Heritage Museum for Outstanding Traditional Western Album. Along with being a genuinely nice guy, proud husband and dad, and popular performer, Hedges is also known for his respected podcast, Cowboy Crossroads, which features in-depth interviews with a wide variety of Western standouts. He will be making his Grand Ole' Opry debut, along with Dom Flemons and Brigid Reedy, on August 10.
Hope you are staying cool in this heat. More news soon!
All the best,
Kay and Gene Nowell
Co-Chairs
Lone Star Cowboy Poetry Gathering
P.S. If you haven't already made your lodging reservations for the February Gathering, consider doing that now. We have a page highlighting lodging options in the area. February is a beautiful time in the Big Bend region, so consider coming earlier and staying longer. Everyone in the area would love to see you!
Lone Star Cowboy Poetry Gathering
July 2023
Board of Directors
Elizabeth Baize, Fort Davis
Robbie Burns, Alpine
Marian Freeland, Alpine
Karen Lloyd, Alexandria, VA
Karen McGuire, Alpine
Kay Nowell, Alpine
Gene Nowell, Alpine
Vess Quinlan, Alamosa, CO
David Richmond, Lindrith, NM
Chris Rydan, Midland, TX
Jim Street, Alpine
Patrick Sullivan, Fairfax Station, VA
Event Producer
Bob Saul, Fort Worth
Film Production and Advisors to the Board
John and Erika Moore, Durango, CO
Advisors to the Board
Rachel Barrett, Alpine
Jim Goodnight, Dallas
Andy Hedges, Lubbock
Mailing address:
Lone Star Cowboy Poetry Gathering
P.O. Box 1076
Alpine, TX 79831
Website:
https://lonestarcowboypoetry.com