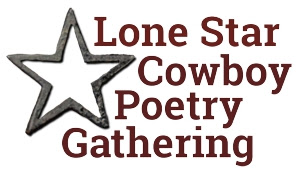 The Saturday 1 PM show on Feb. 18 will feature three fascinating women: Kristyn Harris, Juni Fisher, and Amy Hale, all known for their abilities as both entertainers and writers.
Kristyn Harris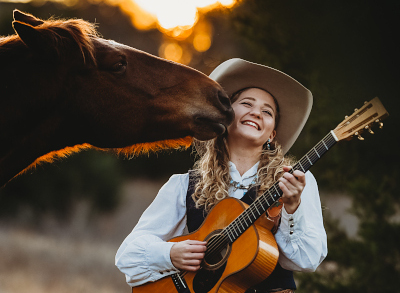 The five-time International Western Music Association Entertainer of the Year (2016-2019 and 2022), Kristyn Harris began singing and playing at age 14 when she borrowed a guitar and began learning chords. It has rarely left her hands since. Discovering an instant passion, she launched into a headlong pursuit of the music that grabbed her – primarily western and western swing (later, throwing in classic country, 1940s big band, gypsy jazz, and traditional folk song influences to her music, and building a gospel repertoire). Somewhere along the way, it became her career path.
Songs of the western lifestyle have also gone hand in hand with her passion for land, livestock, and horses. Along with training her own horses, Kristyn has started a small herd of black Angus cattle (the "Diamond K") and even does professional trick riding – aka, gymnastics/stunts on a galloping horse – as a side hobby. She has been known to ride into rodeo arenas on her once-wild mustang to sing "The Star Spangled Banner."
In February 2020, she released her fourth solo album, A Place to Land, co-produced with her husband, Aarom Meador. It won the 2021 National Cowboy & Western Heritage Museum's Wrangler Award for Outstanding Traditional Western Album and included several of her own songs.
Juni Fisher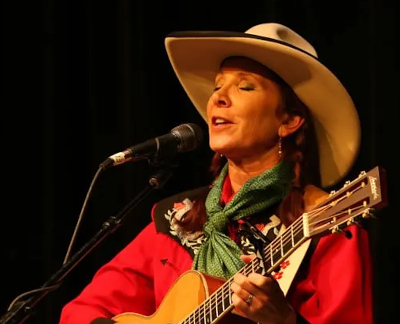 Raised in a San Joaquin Valley, California farming family, Juni Fisher studied equine science in college. While there, she rode horses for customers, was captain of the college horse show team, and began singing big band standards in a dance orchestra to pay for horse show entries. After college, she apprenticed to train cow horses, worked on a cow/calf operation, and ran a roping arena. She soon moved to train cutting horses and singing in a country dance band.
After a move to the Nashville area and competing in point-to-point racing, steeplechasing, and horse trials, she shifted to music full-time in 2003. She delights audiences with her original songs, storytelling, and guitar playing. According to one journalist, "At the heart of her unique and complex artistry is her ability to bring alive what become unforgettable characters and images, stunning stories that often carry a deep and compassionate reflection of the human spirit." She is also the author of many songs recorded by others, and two novels, Girls from Centro and Indelible Ink. She was the 2011 International Western Music Association Entertainer of the Year.
Amy M. Hale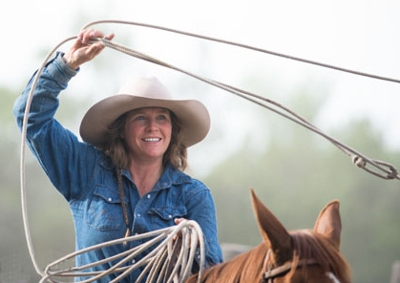 From the Texas panhandle to the mountains of Arizona, Amy Hale has lived the cowboy life--as a wife, mother, cook, ranch hand, and writer. She understands those who live in the sway of nature's moods far off the main roads, and she commends them to us in luminous prose backlit by her own hard-earned experience. She believes that life is a miracle and it is demonstrated all around us in the natural world where birds build nests, cows turn our national forests into healthy beef, beavers build dams, and flowers bloom in deep canyons where no one sees. Her Gathering sessions are always packed.
She has published five books, including essays (Ordinary Skin, Rightful Place), poetry (Livestock Man), and fiction (The Story is the Thing, Winter of Beauty); leads writing workshops; is a sought-after presenter of story, spoken word, and music; and works for day wages on Spider Ranch in central Arizona. Her distinct voice is infused with flash & slam, and her innate ability to distill ideas appeals to readers aspiring to dwell in the sacred every day or longing to leave behind that which is safe but small.
You can get your tickets to the Saturday 1 PM show, and all other Gathering events, on our ticket page.
All the best,
Kay and Gene Nowell
Co-Chairs
Lone Star Cowboy Poetry Gathering
Lone Star Cowboy Poetry Gathering
Board of Directors
January 2023
Elizabeth Baize, Fort Davis
Robbie Burns, Alpine
Ben English, Alpine
Jim Goodnight, Dallas
Karen Lloyd, Alexandria, VA
Karen McGuire, Alpine
Kay Nowell, Alpine
Gene Nowell, Alpine
Vess Quinlan, Alamosa, CO
David Richmond, Lindrith, NM
Jim Street, Alpine
Patrick Sullivan, Fairfax Station, VA
Gilbert Valenzuela, Alpine
Event Producer
Bob Saul, Fort Worth
Film Production and Advisors to the Board
John and Erika Moore, Durango, CO
Advisors to the Board
Rachel Barrett, Alpine
Andy Hedges, Lubbock
Mailing address:
Lone Star Cowboy Poetry Gathering
P.O. Box 1076
Alpine, TX 79831
Website:
https://lonestarcowboypoetry.com