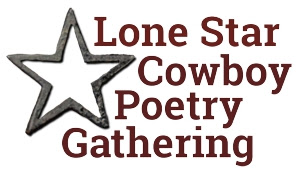 The Lone Star Cowboy Gathering begins each year with a keynote address. We wanted to highlight the last two keynotes, and give you a chance to hear both of them.
"We're Going to See If It Quacks Like a Duck"
Joel Nelson's Keynote Address, 2020 – A Brief Summary
In 2020, the keynote address was given by noted Alpine rancher and poet Joel Nelson. Reading from Berta Hart Nance's 1931 award-winning poem "Cattle," he said, "Other states were carved or born, Texas grew from hide and horn."
He spoke about the history of cowboy poetry gatherings. In October 1984, during the fall roundup on the 06 Ranch, he was shown a magazine ad for an upcoming gathering of cowboy poets in Elko, Nevada the next January. The founders decided to stop setting up chairs at 60, because they didn't want to embarrass themselves. By the end of weekend, 500-1000 people had shown up, and reporters for many major media outlets had covered it. After that event, folklorists started looking for people who had been creating poetry and music about this life, and in 1986, Nelson was invited to Elko for the first time. At the end of that event, Barbara "Barney" Nelson announced that another gathering would happen in Alpine the following month. She pulled together a committee to begin the event in Alpine, which came to be known as the Texas Cowboy Poetry Gathering. According to Joel, the TCPG always had as its goal to "keep it grounded" and to avoid big name performers.
Poetry has taken Joel many places he never would have gone otherwise, including California, Massachusetts, a residency in Northumberland, the Library of Congress, and to the bottom of the Grand Canyon three times with mule packer and poet Ross Knox. He said, "poetry has enriched my life and so many others' lives."
After 33 years of annual successes, Joel was part of the committee that decided to stop the Texas Cowboy Poetry Gathering following the 2019 event. Many on the committee were weary, and some had health issues that made it difficult to continue. He made the motion to end it, so that others who knew how connected he was to it, wouldn't be afraid to do so. He said to the gathered audience in 2020, "We didn't realize how important it was to you," and that "we owe a great debt of gratitude to those who wouldn't let it end."
Is this new event a true cowboy poetry gathering? So far, on this Friday morning, this looks like a poetry gathering, with many of the same great performers, and some new faces. "It's starting to look like a duck, swim like a duck, and dive like a duck. We're going to see if it quacks like a duck and flies like a duck."
You can hear Nelson's full keynote on our website:
audio of Joel's keynote address
"Cattle," by Berta Hart Nance:
poem text at PoetryNook.com
"The Rest of Us Have Poems, Songs, and Stories"
Vess Quinlan's Keynote Address, 2022 – A Brief Summary
Vess Quinlan, Colorado rancher and truck driver, was the 2022 keynote speaker. He said, "The wealthy and connected have scholars and historians to write volumes recording and preserving their culture. The rest of us have poems, songs and stories."
Remembering the first modern-day cowboy poetry gathering at Elko, Nevada, in 1985, he told stories of meeting journalists, academics, and hitchhiking cowboys, and explored "How is it [that] so many with little or no connection to the grazing culture would become fans willing to spend a weekend listening to cowboy poems and songs? I think it is because these are poems and songs that celebrate family, a powerful work ethic, a love for, and an intimate connection to the earth and animals that proper stewardship requires. People use words like authentic, down to earth, and just plain fun to describe the gatherings." The cooperation that is necessary for agriculture is modeled on a gathering stage. "Maybe some people ... respond to our desire to support instead of compete with one another. Maybe they enjoy our obvious desire to celebrate and preserve a culture that helps feed us all."
He concluded with a poem by the late Bruce Kiskaddon, who worked hard in Los Angeles to raise his family and wrote poems remembering his cowboy past, many of which were published weekly in The Western Livestock Journal. Some of those ended up in a shoebox under Quinlan's grandmother's bed, and were a window to the outside world when he was a young boy recovering from polio.
Watch Quinlan's funny and eloquent keynote address online. It's about a 17-minute video:
video of Vess's keynote
Or read the full text:
full text of Vess's keynote
2023 Keynote Address
At the 2023 Gathering, the keynote address will be given by B. Byron Price, noted historian of the West. We can't wait to hear from this West Point graduate, museum director, Charles Russell expert, and chuckwagon cook.
More about B. Byron Price
https://lonestarcowboypoetry.com/performers/2023/byron_price.html
All the best,
Kay and Gene Nowell
Co-Chairs
Lone Star Cowboy Poetry Gathering
Lone Star Cowboy Poetry Gathering
Board of Directors
January 2023
Elizabeth Baize, Fort Davis
Robbie Burns, Alpine
Ben English, Alpine
Jim Goodnight, Dallas
Karen Lloyd, Alexandria, VA< br /> Karen McGuire, Alpine
Kay Nowell, Alpine
Gene Nowell, Alpine
Vess Quinlan, Alamosa, CO
David Richmond, Lindrith, NM
Jim Street, Alpine
Patrick Sullivan, Fairfax Station, VA
Gilbert Valenzuela, Alpine
Event Producer
Bob Saul, Fort Worth
Film Production and Advisors to the Board
John and Erika Moore, Durango, CO
Advisors to the Board
Rachel Barrett, Alpine
Andy Hedges, Lubbock
Mailing address:
Lone Star Cowboy Poetry Gathering
P.O. Box 1076
Alpine, TX 79831
Website:
https://lonestarcowboypoetry.com