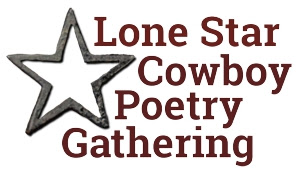 ALPINE, TEXAS
Virtual events showcasing cowboy poets and musicians in 2020-2021
3rd Fri/Sat of February in normal years
LoneStarCowboyPoetry.com
Hello friends,
Greetings from Alpine! Sadly, we can't invite you to Alpine in February, but we wanted to update you on what the Lone Star Cowboy Poetry Gathering will look like this year.
We are streaming a series of ticketed virtual cowboy poetry events in 2020-2021, each showcasing three or more performers.
Our film crew is traveling to the home ranches of the performers to see the vistas that inspire them, the livestock they raise, and the dust they chew as they work. That takes time, money, and good equipment. But it's exciting! The first footage has been filmed, and the broadcast is in production. You'll hear about performers and tickets soon, and photos and film clips will be popping up on social media and on our website.
Keeping the Tradition Alive Fund
But we can't stop with one broadcast. Our Keeping the Tradition Alive Fund will empower us to produce additional top-quality online cowboy poetry events.
An anonymous donor has pledged $10,000 to double-match every donation we receive through this fund up to a total of $5,000 between now and November 15. So any dollar you give becomes $3! Together, we can raise $15,000 to ensure more virtual cowboy poetry events.
PROGRESS SO FAR: Donations totaling $2156 have been received and double-matched, for a total of $6468. That's 43% of our goal! Thank you to everyone who has shared our message on social media, and given generously in these challenging times. Let's push on to 100%!

We know you are dedicated fans of cowboy poetry and music. Thank you for helping us keep cowboy poets, storytellers, and musicians performing. Perhaps, through our virtual events, we can even help expand the fan base for this art form and these hard-working writers, singers, and instrumentalists.
All the best,
Kay and Gene Nowell
Co-chairs, Lone Star Cowboy Poetry Gathering
Yes, I Want My Donation Tripled!
Lone Star Cowboy Poetry Gathering
Board of Directors
November 2020
Elizabeth Baize, Fort Davis
Rachel Barrett, Alpine
Robbie Burns, Alpine
Jim Goodnight, Dallas
Karen McGuire, Alpine
Kay Nowell, Alpine
Gene Nowell, Alpine
Jim Street, Alpine
Julie Stovell, Alpine
Gilbert Valenzuela, Alpine
Event Producer
Bob Saul, Fort Worth
Film Production and Advisors to the Board
John and Erika Moore, Durango, CO
Mailing address:
Lone Star Cowboy Poetry Gathering
P.O. Box 1076
Alpine, TX 79831
Website:
https://lonestarcowboypoetry.com