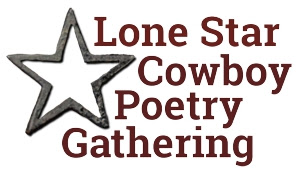 Howdy, everyone!
If you were in Alpine in February -- thank you. You helped make the 2023 Gathering a great success. Since not everyone checks in or purchases a ticket, it's tough to get exact numbers, but we estimate there were 2260 attendees. We sold tickets to people from 29 states and 2 countries, and the Saturday night show was to a sellout crowd in Marshall Auditorium. Our billboards on major Texas highways and other forms of advertising worked, as over 37% of our attendees were new to Alpine and to cowboy poetry. We are so grateful to our members, sponsors, and the Alpine/Fort Davis/Marfa/Marathon communities for their support, work, and hospitality.
National and Regional Press
We were thrilled to have noted cowboy poetry photographer Jessica Lifland with us this year in Alpine from California to document the 2023 Gathering. Watch for her photos to appear in this newsletter, on social media, in Facebook and Instagram posts, and in print and media ads nationwide. Press passes were also issued to reporters and photographers whose stories will be published during the next year in a variety of publications.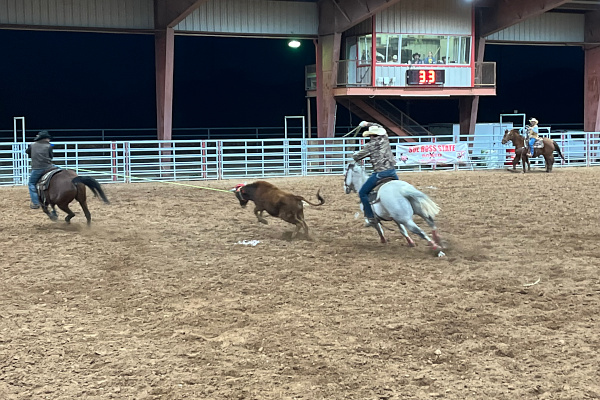 Show Rodeo
Held on Wednesday evening (February 15th) in Alpine, the Show Rodeo spotlighted the SRSU Rodeo Team. Tri-county residents, SRSU students, and visitors from as far away as Quebec experienced the thrills and spills of chute wrestling, calf roping, barrel racing, team roping, and saddle bronc riding. The event raised $1,170 to help support the SRSU team.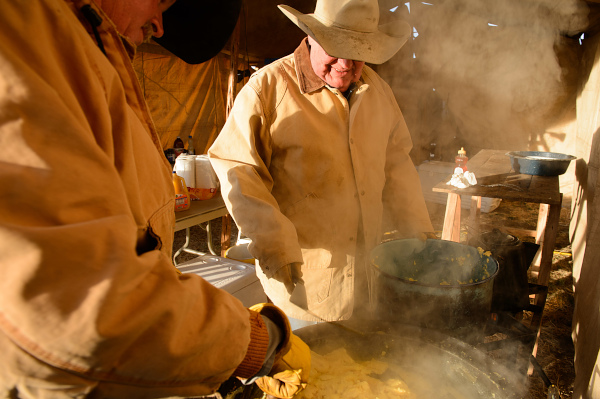 Chuckwagon Breakfasts
A chilly morning for the Friday Chuckwagon Breakfast did not dampen the spirits of the attendees sipping cowboy coffee around the warming fire at Poets Grove in Kokernot Park. They enjoyed scrambled eggs, biscuits, and sausage gravy from authentic cowboy cooks at the wagon. It was warmer on Saturday, and the fresh food was just as tasty. Thanks to the Alpine Lions Club for serving, and the chuckwagon cooks and helpers for rising before dawn to start fires and cook us a hearty breakfast to kick off the Gathering day.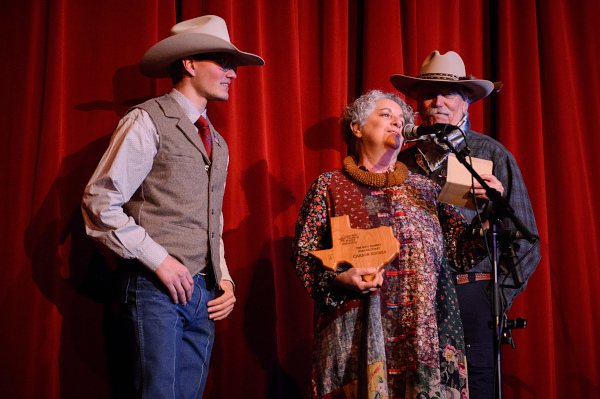 Buck Ramsey Award
Poet and bull rider Carson Houser of McClusky, North Dakota, was the 2023 recipient of the Buck Ramsey Award given at the Lone Star Cowboy Poetry Gathering. This plaque and check are awarded to an "individual who demonstrates significant promise to contribute to the cowboy canon including poetry, music, and story." Buck's daughter, Amanda Ramsey, and Patrick Sullivan participated in the presentation.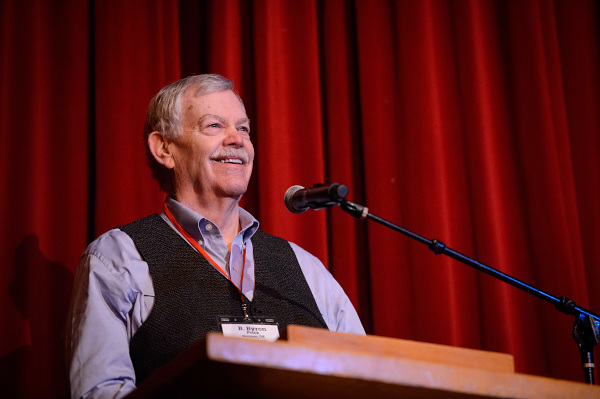 Keynote
Historian B. Byron Price gave the keynote address on Friday morning entitled "Goodnight's Life and Haley's Pen: Writing a Cowman's Biography." It was a fascinating talk from the distinguished expert on Charles Goodnight and was well-received by the audience.
A Taste of the Gathering
Where do you get 11 or more of the top cowboy poetry and music performers from around the country on one stage in a free show? In Alpine! This year, the free "Taste of the Gathering" session included Dale Burson and Chris Ryden of Texas (musicians), Sean Sexton of Florida (poet), Chuck Milner of Oklahoma (musician), Jake Riley and R.P. Smith of Nebraska (poets/humorists), Amy Hale of Arizona (poet), Juni Fisher and Dave Stamey of California (musicians), Waddie Mitchell of Nevada (poet), and Carson Houser of North Dakota (poet).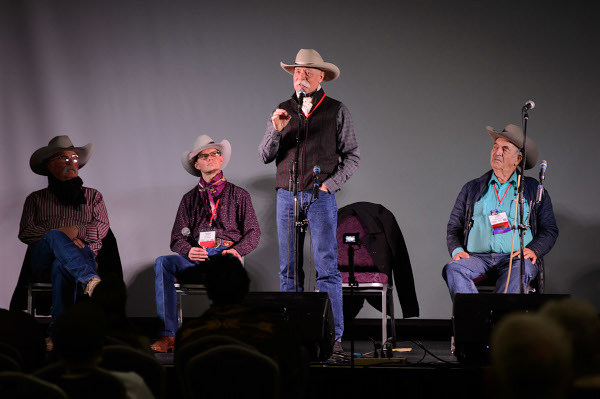 Sessions
Concurrent free daytime sessions are always well-attended. The only problem is choosing which ones to see! Each session is carefully put together to achieve that "Gathering Magic" which takes the attendees along for the ride.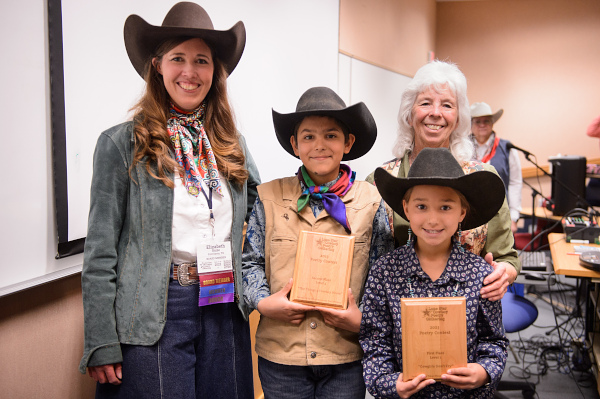 Youth Poetry Contest
The 2023 Lone Star Cowboy Poetry Gathering Youth Poetry Contest garnered 110 entries over five levels. Contestants included students from Alpine Christian School, Alpine ISD, Fort Davis ISD, Valentine ISD, Marathon ISD, Balmorhea ISD, Austin ISD, Uvalde Classical Academy, and Columbia Elementary School in Louisiana, along with several home schools in West Texas, Central Texas, Ohio, and Alaska. Many of the winners, including several students who received honorable mentions, shared their poems in a Saturday session at the Gathering. Young musicians from the Buckaroo Club of the Cowtown Opry in Fort Worth also performed, rounding out a terrific session showcasing the talents of our youth.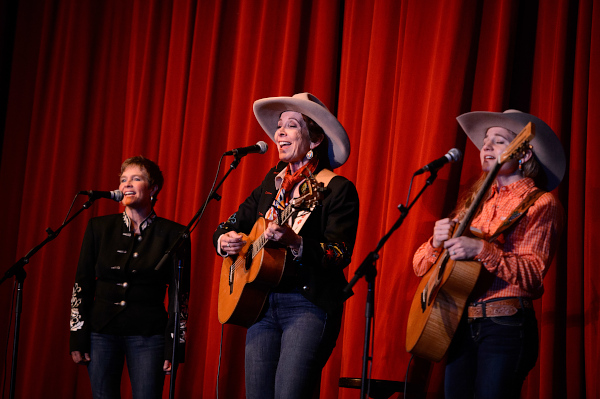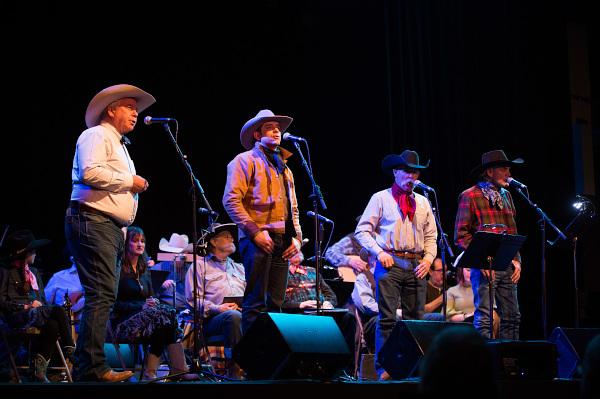 Shows
Special, ticketed shows really show off the gifts of our artists. Some sell out the auditorium, and the crowds are treated to a representation of the cowboy way of life in a very entertaining way. We had six ticketed shows this year, three on Friday and three on Saturday.
Photo Booth
Musician and photographer Almeda Bradshaw took photos and collected anecdotes from attendees at our new photo booth to help tell the story of the Gathering each week this year on Facebook. If you haven't seen her weekly posts yet, make sure to check out our Facebook page.
Please send us ALL of your feedback
We've received some great attendee comments (see below). However, if you had any problem or issue at the Gathering, we need to know that, too, so we can continue to improve. Use our contact form to communicate with us or reply to this email.
"What a great gathering this year!! To the many talented artists, thank you for taking us on an unforgettable journey again this year. Keep up the good work, and know that you are appreciated."
- Phil Elmore
"I was first introduced to the cowboy poetry gathering through an informal jam session by some of the performers on the patio of the Holland Hotel a few years ago, and I was hooked. I come back year after year to the event, and the sight and sound of a rugged wrangler with workman's hands reciting the sometimes tough, sometimes tender, verse he has penned always touches me. There is art in the cowboy's heart. . . . As a member, I want to thank you for another great event. I know so much work goes into the gathering that we, as spectators, never see. I am grateful that you did not let this tradition die out."
- Geanie Burns
"Thanks to all who worked so very hard on the Gathering. We had a great time. And thanks to the performers who signed my poster. We're already planning on attending next year."
- Todd Johnson
"I attended the 2023 gathering. It was one of the best I've been to in years. KUDOS to Kay Nowell and the crew. Very well put together. Great entertainers. Saw a lot of my friends and had a great time. Don't miss this one in 2024. Guaranteed good times!!!! You won't be disappointed!"
- Mike Querner
"Thank y'all for putting on such an unforgettable weekend!"
Chris Ryden
"That was an incredible weekend. A very special thank you to you and all the great talent we had for our event. Dave, Andy, John, Waddie, Barry, Kristyn, Juni, and everyone else who made it so special. Can't wait for next year's event. Hopefully, it will be as great as the one we just had."
- Joan Kahl
"It was incredible again this year! Thank you guys for everything!"
- Jean Prescott
Looking ahead
This year's success has influenced our planning for next year. The Show Rodeo ahead of the Gathering will be back on Wednesday evening (Feb 14th), and for those of you who just can't get enough cowboy poetry and music, we're adding a Thursday night ticketed show (Feb. 15th). Think about that as you make your hotel reservations for 2024. And tell your friends that the annual Gathering is always on the 3rd Thursday through Saturday of February, or from Feb. 15-17 in 2024.
While you're marking your calendar: Member ticket sales for 2024 begin on Oct. 1, and ticket sales for the general public begin on Nov. 1.
If you would like to perform at the Gathering, our application deadline is April 1 of the year before the Gathering. That means we're now taking performer applications for 2025. Follow the directions on our application form on our website to apply.
You'll be hearing from us again soon -- there's a lot more to tell you! If you're a member or a sponsor, thank you again from all of us connected to the Gathering for your support. You allow this event to continue and grow.
All the best,
Kay and Gene Nowell
Co-Chairs
Lone Star Cowboy Poetry Gathering
Lone Star Cowboy Poetry Gathering
June 2023
Board of Directors
Elizabeth Baize, Fort Davis
Robbie Burns, Alpine
Marian Freeland, Alpine
Karen Lloyd, Alexandria, VA
Karen McGuire, Alpine
Kay Nowell, Alpine
Gene Nowell, Alpine
Vess Quinlan, Alamosa, CO
David Richmond, Lindrith, NM
Jim Street, Alpine
Patrick Sullivan, Fairfax Station, VA
Gilbert Valenzuela, Alpine
Event Producer
Bob Saul, Fort Worth
Film Production and Advisors to the Board
John and Erika Moore, Durango, CO
Advisors to the Board
Rachel Barrett, Alpine
Jim Goodnight, Dallas
Andy Hedges, Lubbock
Mailing address:
Lone Star Cowboy Poetry Gathering
P.O. Box 1076
Alpine, TX 79831
Website:
https://lonestarcowboypoetry.com