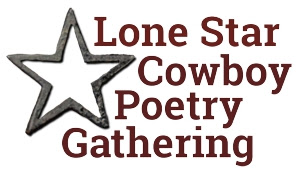 ALPINE, TEXAS
Virtual events showcasing cowboy poets and musicians in 2020-2021
3rd Fri/Sat of February in normal years
LoneStarCowboyPoetry.com
Hello friends,
It's cold outside - time to settle in with a blanket, coffee, and some cowboy music and poetry!
Tickets are now on sale for the Lone Star Cowboy Poetry Gathering's first virtual events (Dec. 16-Jan. 3 and Jan. 22-31). We are streaming an 81-minute film, Keeping the Tradition Alive, featuring poetry, musical performances, and interviews with poet Joel Nelson and musicians Dale Burson, R.W. Hampton, Randy Huston, and Rod Taylor. Commissioned by the Gathering and filmed in the fall of 2020 on location in Alpine and on ranches in Texas and New Mexico, it is a thoughtful, informed, and humorous introduction to Alpine, the Gathering, and the poetry and music created by working cattlemen and women. And the scenery is amazing!
Tickets are $20 for a single ticket for non-members, $5 for each additional ticket and Bronze Members, and free to Silver Members and above. A ticket provides access for any number of viewers on one screen. Ticketholders can watch online as many times as desired, using any internet-connected device. Tickets are available online at lonestarcowboypoetry.com/tickets/.
NOTE: If you are a member, or donated to our Keeping the Tradition Alive Fund, you should have received a separate email with your promo code for your complimentary or $5 ticket. If you have not received that, please let us know right away.
Need gifts? Treat your friends, family, or co-workers to a taste of the Gathering for only $5. You just need an email address to send them a ticket.
Event dates:
Premier: Dec. 16-24, 2020
Christmas: Dec. 25, 2020 - Jan. 3, 2021
January: Jan. 22 - 31, 2021
Future virtual events
You'll be happy to hear we raised $29,386 through our Keeping the Tradition Alive matching fund to underwrite more virtual cowboy poetry events in 2021. Thank you to everyone who contributed! We'll start filming more performers as soon as we can. And please consider pledging or matching funds when we reactivate the Keeping the Tradition Alive fund in the near future.
Consider membership
If you are already a member or donor, thank you! We are so happy and honored to be working with you to promote narratives of the cowboy life by those who have lived it. If you are not yet a member, we hope you'll consider it. Membership starts at $5 per month or $50 per year. You can use our online form, or mail us a check.
After a rough year, all of us can use some music, poetry, and the lighthearted joshing of old friends you'll find in our film. Hope you like it.
All the best,
Kay and Gene Nowell
Co-chairs, Lone Star Cowboy Poetry Gathering
About the performers and filmmakers:
Joel Nelson, one of the best-known cowboy poets, has made his living, either directly or indirectly, with horses and cattle on outfits such as the King Ranch, o6 Ranch and Parker Ranch since college graduation. He began writing while serving with the 101st Airborne Division in Vietnam and has been a serious writer and reciter of traditional and free-verse poetry for twenty-five years. In 2000 his album The Breaker in the Pen earned a Grammy nomination in the Spoken Word category. Joel and his wife Sylvia work side by side managing the Anchor Ranch near Alpine where they raise Corriente and Angus cattle.
Dale Burson, an award-winning singer, songwriter, and multi-instrumentalist, plays guitar, fiddle, mandolin, and banjo. A fourth-generation rancher, he runs cow-calf and yearling operations near Channing, Texas. He is a featured performer at cowboy gatherings and concerts throughout the United States and was awarded the Wrangler Award from the National Cowboy and Western Heritage Museum for "A Life More Than This" as Outstanding Original Western Composition. Dale has recorded with his son and daughter, Ross and Brittany, releasing the albums The Burson Family Ranch and Dancing with Daddy. He released The Heart in 2015 and has a new album coming out soon.
R.W. Hampton worked as a cowboy on ranches in New Mexico, Texas, Nevada, Oregon, and Wyoming before launching a full-time music career as a singer/songwriter in 1988. Since then, he has released 14 albums including Ridin' the Dreamland Range, which received "Album of the Year" honors by the Academy of Western Artists in 1997. He was named "Outstanding Vocalist, Male" by the Western Music Association in 2010, and has been awarded "Male Vocalist of the Year" three times by the Academy of Western Artists. He has appeared in thirteen movies, including Wild Horses, The Tracker, The Gambler III, and a documentary of the American cowboy; and wrote a one-man stage play, The Last Cowboy, with his brother Jeff and playwright Dave Marquis in 1993. He currently lives on his ranch near Cimarron, New Mexico.
Randy Huston writes and sings about the modern-day lifestyle of the cowboy. He is a fourth-generation livestock producer, and partners with his father on their ranch in Rociada, New Mexico. He started breaking horses for wages at the age of 14 and spent many years in rodeo arenas through high school and college. Randy was voted one of the top five male entertainers in 2007 by the Academy of Western Artists and was 2010 Academy of Western Artists male vocalist of the year. His albums include Keepin' the New West Wild, There's A Hole in Daddy's Rope, and Cowboys and Girls (with daughter Hannah Huston). This album won the 2015 award for "Outstanding Traditional Western Album" presented by the National Cowboy and Western Heritage Museum.
Rod Taylor left Philmont Ranch in New Mexico in 2017 after 34 years as a cowboy and then head of cattle operations. He has also been playing music for more than 30 years, both as a solo artist and with regional bands, including The Rounders and The Rifters. His albums include Riding Down the Canyon ; A Philmont Collection ; Here, There or Anywhere ; and six albums with The Rifters. He has performed at many cowboy music and poetry gatherings around the country, and has acted in commercials, films, television shows, music videos, and documentaries. Rod lives in Cimarron, New Mexico.
John Moore, filmmaker, makes his living both as an equine clinician and as a musician. He conducts clinics and riding camps around the world, working with both western and dressage horses and riders, and is known for rehabilitating horses with behavioral issues. John is the mandolinist, guitarist and vocalist for the band Bluegrass Etc., and the mandolinist with the band California, the International Bluegrass Music Association's Instrumental Band of the Year three years in a row, and he teaches at numerous music camps.
Erika Moore, filmmaker, is a working horsewoman who teaches in the Moores' riding camps. Her camera work in Keeping the Tradition Alive is notable. She and John filmed and edited the entire production.
Lone Star Cowboy Poetry Gathering
Board of Directors
December 2020
Elizabeth Baize, Fort Davis
Rachel Barrett, Alpine
Robbie Burns, Alpine
Jim Goodnight, Dallas
Karen McGuire, Alpine
Kay Nowell, Alpine
Gene Nowell, Alpine
Jim Street, Alpine
Julie Stovell, Alpine
Gilbert Valenzuela, Alpine
Event Producer
Bob Saul, Fort Worth
Film Production and Advisors to the Board
John and Erika Moore, Durango, CO
Mailing address:
Lone Star Cowboy Poetry Gathering
P.O. Box 1076
Alpine, TX 79831
Website:
https://lonestarcowboypoetry.com